This article has been proposed as a feature article for the GF wiki homepage. Please help us by improving it, or visit Meta:Featured articles to find out more or discuss.
This article was nominated in October 2011 by Thayvian.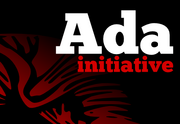 The
Ada Initiative
(sometimes called "TAI") was a non-profit promoting women in open technology and culture, founded in January 2011 by
Valerie Aurora
and
Mary Gardiner
, its Executive Director and Director of Operations and Research respectively. The organization ws named for
Ada Lovelace
, the "world's first computer programmer."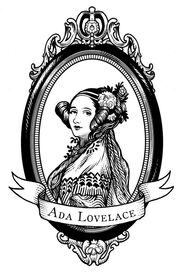 In 2010, after the sexual assault of Noirin Shirley at
ApacheCon
2010,
[1]
Valerie Aurora, already an activist for women in open source, joined Mary Gardiner and members of
Geek Feminism
to develop anti-harassment policies for conferences.
[1]
[2]
Aurora would go on to quit her job as a
Linux
kernel developer at Red Hat and with Gardiner, the founder of
AussieChix
, the largest open source organization for women in Australia,
[3]
would found the Ada Initiative. The organization is named after
Ada Lovelace
, who worked with Charles Babbage and is considered the world's first computer programmer.
[1]
After a failed search for a new Executive Director in early 2015 the board decided to shutdown the organization effective mid-October 2015.
[4]
Administration
Edit
All services provided by the Ada Initiative are pro bono. In the summer of 2011 the Ada Initiative launched a seed funding campaign to raise start-up funds with a goal of contributions from 100 funders.[2] The campaign wrapped up six days before its planned deadline.[5] The organization's first major sponsor was Linux Australia,[1] who provides support alongside Puppet Labs, DreamHost, The Mail Archive and Google.[6] Aurora and Gardiner are the only staff members, serving full-time roles in the organization.[2]
Board & advisory board
Edit
The Ada Initiative is governed by a board of directors of six who oversee its management. The current board includes both Aurora and Gardiner, Rachel Chalmers of The 451 Group, Denise Paolucci of Dreamwidth Studios, Sue Gardner of the Wikimedia Foundation and Caroline Simard of Stanford School of Medicine.[3]
An advisory board also supports the organization, providing input about ideas and projects.[7]
The Ada Initiative is a non-profit organization dedicated to increasing participation of women in open technology and culture, which includes open source software, Wikipedia and other open data, and open social media.[5]
Initiatives
Edit
One of the first initiatives developed by the Ada Initiative was developing anti-harassment policies for conferences. The Ada Initiative works with open source conference organizers to form and communicate policies to make conferences safer and more inviting for women and others. They have worked with conferences such as Ubuntu Developer Summits and all Linux Foundation events, including LinuxCon, all of which have adopted policies based on Ada Initiative's work.[2]
The Ada Initiative plans to work to create policy framework for developing a Women in Open Source Scholarship and programming guides for outreach projects and events. The organization also plans to host workshops and training. These workshops and programs will come by way of Allies Workshops for male and institutional supporters and "First Patch Week" which encourages women's participation in FLOSS through mentoring.
By encouraging women's participation in open source culture, the Ada Initiative seeks to encourage women to engage in open source professionally and full-time, not just as volunteers. The organization also seeks to research women's roles and experiences in open source, focusing on bringing research up to date from the past FLOSSPOLS survey. Research methodology and a new survey were produced in 2011[8] and a repeat of the survey will take place at the end of two years, with hopes to provide a standard resource for the industry.[1] The initial survey invited participants of any gender and inquired about subjects regarding open source and free software, hardware, open mapping, and other related open source areas, as well as free culture such as Creative Commons, online activism, |mashup, maker, hacker spaces and related communities.[8]
Main article: AdaCamp
References
Edit
↑ 1.0 1.1 1.2 1.3 1.4 http://itmanagement.earthweb.com/osrc/article.php/3923936/Ada-Initiative-Supports-Women-in-Open-Source-Counters-Sexism.htm
↑ 2.0 2.1 2.2 2.3 http://infotrope.net/2011/06/08/please-donate-to-the-ada-initiatives-seed-100-campaign/
External links
Edit