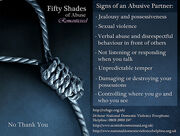 Fifty Shades of Grey is a 2011 erotic romance novel by British author E. L. James. It is the first installment in the Fifty Shades trilogy that originally started out as a Twilight fanfiction. It is notable for its explicitly erotic scenes featuring elements of sexual practices involving bondage/discipline, dominance/submission, and sadism/masochism (BDSM).
Ad blocker interference detected!
Wikia is a free-to-use site that makes money from advertising. We have a modified experience for viewers using ad blockers

Wikia is not accessible if you've made further modifications. Remove the custom ad blocker rule(s) and the page will load as expected.