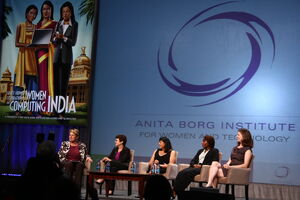 The
Grace Hopper Celebration of Women in Computing
(often shortened to Grace Hopper, Grace Hopper Celebration, or GHC) is a conference aimed at women in computing. Co-founded by Dr. Anita Borg and Dr. Telle Whitney in 1994 and inspired by the legacy of Admiral Grace Murray Hopper, the Institute's
Grace Hopper Celebration
(GHC) conference is designed to bring the research and career interests of women in computing to the forefront. It is the largest technical conference for women in computing and results in collaborative proposals, networking and mentoring for junior women and increased visibility for the contributions of women in computing. Conference presenters are leaders in their respective fields, representing industry, academia and government. Top researchers present their work while special sessions focus on the role of women in today's technology fields.
The Grace Hopper Celebration is a program of the Anita Borg Institute for Women and Technology .
Links
Ad blocker interference detected!
Wikia is a free-to-use site that makes money from advertising. We have a modified experience for viewers using ad blockers

Wikia is not accessible if you've made further modifications. Remove the custom ad blocker rule(s) and the page will load as expected.