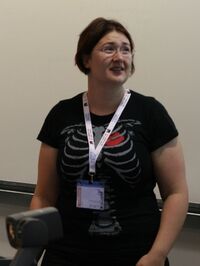 Joh Pirie-Clarke (sometimes known online as Sharrow) is a Linux sysadmin from New Zealand. Sharrow is also one of the organisers of the annual New Zealand hacking conference Kiwicon. She was the organiser of the Haecksen and LinuxChix miniconf in 2010, and had previously spoken at the LinuxChix miniconf in 2008.
Public speaking
So you want to be a sysadmin? presented at the LinuxChix miniconf in 2008 (video is linked)
Gender in Gaming - Microsoft Teched 2008
Hackers, Crackers and Security Basics - Linuxchix miniconf 2010
Ad blocker interference detected!
Wikia is a free-to-use site that makes money from advertising. We have a modified experience for viewers using ad blockers

Wikia is not accessible if you've made further modifications. Remove the custom ad blocker rule(s) and the page will load as expected.