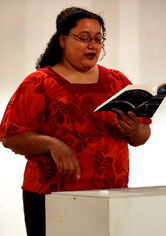 K. Tempest Bradford is a speculative fiction author, tech writer, and blogger.
Writing
Bradford's speculative fiction has been published in Strange Horizons, and the Federations anthology among others. Her non-fiction has appeared in the WisCon Chronicles and she had essays in the Doctor Who essay anthologies Chicks Dig Time Lords and Chicks Unravel Time. The venues her reviews have appeared in include Fantasy Magazine and Strange Horizons.
Bradford is a regular blogger for Tor.com and the Carl Brandon Society.
Editing
Bradford was a a non-fiction and managing editor for Fantasy Magazine, 2007–2009
Activism
Bradford is the founder of the Angry Black Woman blog, an anti-racist and anti-sexist activist blog. She has several times organised the safer space for people of color at WisCon.[1]
Tech writing
Bradford is a gadget reviewer, specialising in mobile technology, for Digital Trends and Black Enterprise and was a reviewer for Tecca until its closure. Her reviews have also appeared in GottaBeMobile, Notebooks.com, LAPTOP Magazine, Android Central and Computer Shopper.
External links
Ad blocker interference detected!
Wikia is a free-to-use site that makes money from advertising. We have a modified experience for viewers using ad blockers

Wikia is not accessible if you've made further modifications. Remove the custom ad blocker rule(s) and the page will load as expected.