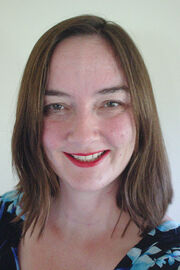 Mary Gardiner is a computer programmer and geek feminist writer.
Previously she was a co-founder of and Deputy Executive Director of the Ada Initiative, and a computer science postgraduate student. During 2009–2014, she was the most prolific contributor to the geekfeminism.org blog. She also contributed to Australian feminist blog Hoyden About Town.
Women's groups and events
Mary was the founder of the LinuxChix and Haecksen miniconferences and of both AussieChix, the Australia-wide LinuxChix chapter, and OWOOT, the expansion of AussieChix+NZChix into general open technology.
Conference talks
Mary has given many user group and conference talks. Major talks include:
keynote presentation at Wikimania 2012, "Fostering diversity: not a boring chore, a critical opportunity"
presentation with Valerie Aurora at linux.conf.au, January 2012 (video)
keynote presentation at PyCon AU, August 2011 (video)
invited speaker presentation at Girl Geek Dinner Sydney, June 2011 (video)
Other talks include LinuxChix and Haecksen miniconferences (2012, 2009), OSDC (2008, 2006).
Open source community
Mary has been involved in Open Source community, particularly in Australia, for many years, including:
(co) chair of the linux.conf.au program, 2008–2010 and 2013
reviewer for linux.conf.au and PyCon US
former lead documentation author for the Twisted project
Her contribution to the Australian open source community was recognised in 2012 with the Rusty Wrench Award.
External links