Netguide is a New Zealand magazine. For the 2 days weekend event "Digital Nation" they hired brand ambassadors, and required them to wear bikini while working.
This was in breach of the event's code of conduct (private? not published publicly?) - However it was not until the 2nd day of the event, following pressure on social media, that the 2 women were given appropriate clothing to wear.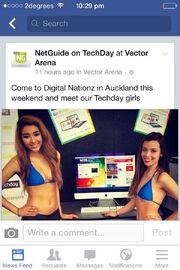 Related links:

http://darrens-world-of-entertainment.blogspot.co.nz/2014/09/digital-nationz-day-1-shots.html
http://www.stuff.co.nz/national/10553582/Apology-follows-bikini-backlash
Ad blocker interference detected!
Wikia is a free-to-use site that makes money from advertising. We have a modified experience for viewers using ad blockers

Wikia is not accessible if you've made further modifications. Remove the custom ad blocker rule(s) and the page will load as expected.