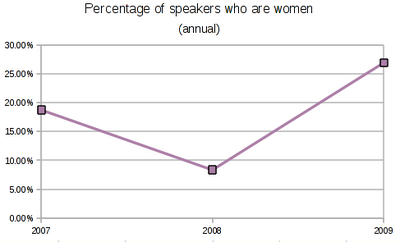 Ontario GNU/LinuxFest is held in October each year, starting in 2007. In 2007 and 2008 it was simply "Ontario LinuxFest." The GNU was added in 2009.
Women who have spoken or are scheduled to speak at Ontario GNU/LinuxFest include:
2008 speaker list is currently unavailable
Ad blocker interference detected!
Wikia is a free-to-use site that makes money from advertising. We have a modified experience for viewers using ad blockers

Wikia is not accessible if you've made further modifications. Remove the custom ad blocker rule(s) and the page will load as expected.