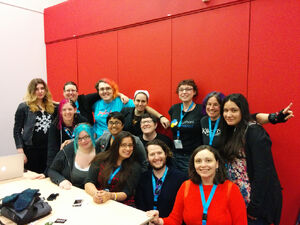 In 2014, at PyCon (a major Python conference), a group of feminists organised a Feminist Hacker Lounge to run throughout the event.
The space was used for meetups by various women's groups as well as general hanging out.
Ad blocker interference detected!
Wikia is a free-to-use site that makes money from advertising. We have a modified experience for viewers using ad blockers

Wikia is not accessible if you've made further modifications. Remove the custom ad blocker rule(s) and the page will load as expected.