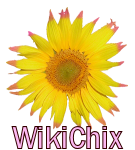 WikiChix was a community that aimed to provide a safe environment where women could discuss issues of gender bias in wikis, to promote wikis to potential female editors, and for general discussion of wikis in a friendly female-only environment.
The project was created by Angela Beesley in November 2006 following discussions on systemic gender bias in Wikipedia which made it clear that a number of women were not comfortable contributing to the conversation there.
WikiChix was named after, and inspired by, LinuxChix, the women-oriented community for Linux users.
The project consisted of a wiki and mailing list. It is now defunct.
External links
Ad blocker interference detected!
Wikia is a free-to-use site that makes money from advertising. We have a modified experience for viewers using ad blockers

Wikia is not accessible if you've made further modifications. Remove the custom ad blocker rule(s) and the page will load as expected.