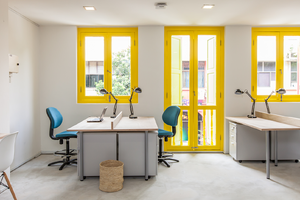 Woolf Works is Asia's first and only coworking space for women. Our members come from diverse backgrounds and are writers, photographers, editors, small business owners and more. In addition to our coworking space, we have event spaces for hire. Woolf Works is dedicated to building a community and network of women. We are located in a traditional shophouse in Singapore's vibrant Joo Chiat neighborhood. Find out more information about us here.
About
Woolf Works was founded by Michaela Anchan in 2014. Her goal was to create a calm and relaxing environment for women to work.
Membership
Coworking membership at Woolf Works offers many benefits such as a calm, beautiful space to work in as well as a community of women to share ideas. There are many flexible membership plans to meet the diverse needs of the modern working woman. To find out more information to become a member go here.
Home page: Woolf Works a workspace for women in Singapore
Ad blocker interference detected!
Wikia is a free-to-use site that makes money from advertising. We have a modified experience for viewers using ad blockers

Wikia is not accessible if you've made further modifications. Remove the custom ad blocker rule(s) and the page will load as expected.